Well, life looks a bit different then we all expected it might right about now! We hope everyone is hanging in there, staying healthy, and finding ways to connect meaningfully with loved ones, even from a distance. We wanted to update you on what's been happening for us.
We're starting the sixth week of our shelter-in-place here on the California Central Coast and we're thankful to have each other and the entertainment of the squirrels, lizards, and deer with tiny newborn fawns roaming through the yard now and then. Watching Spring arrive in Bonny Doon has been an unexpected treat. We've lived in our little cabin for five years and have always been touring at this time of year. Who knew our meadow blossomed in these lovely baby blue flowers? Despite the uncertainty and fear swirling all around, it's been an opportunity to recognize the importance of slowing down and remembering to be grateful, even if that seems impossible sometimes.
The need to be flexible and creative has also become even more apparent. As we saw entire tours and all the festivals and private events we'd been booked to perform wiped from our calendar, likely at least into the Fall at this point, we were humbled by the recognition that we were never in control over these future plans to begin with.
As Pete Seeger wrote in his song "Turn! Turn! Turn!": "To everything/Turn, turn, turn/There is a season/Turn, turn, turn/And a time for every purpose under heaven."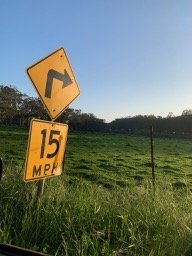 In this season we're enjoying the cleaner smell in the air, more time to play our instruments, and the volume of silence that comes when we stop playing. We're making huge pots of soup, enchiladas, and lots and lots of tacos. Laurel has perfected her vegan banana bread recipe (check it out below), which was put to the ultimate test recently when regular flour became unavailable. We were able to find spelt flour, and most recently, sorghum flour, and these were still able to produce a delicious loaf. We're appreciating our walks through the forest and all of our online music students now more than ever, and are excited by the extra strides they're making now that everyone seems to have a lot more time to practice.
But still, some days are tough. Motivation comes and goes and it seems impossible to escape depressing news. We're probably all sharing these feelings. With extra time has come the expectation that we should be even more productive, really make the most of it! Yet the simplest tasks, like grocery shopping, have suddenly harnessed the power to zap all of our energy and wrap us up in a bundle of stress. It's important to recognize that processing everything that's been going on is a new frontier. Some days, doing what we can to just take care of ourselves while staying mentally and emotionally healthy, let alone physically healthy, can feel like a full time job. It's a good time to be kind to ourselves.
Despite the ups and downs, Dan's still managed to release five more solo albums, including a number of songs written just this month. See https://officialramblingdanfrechette.bandcamp.com/music Together we're also contemplating album #5, but we're not in a rush. We don't have to finish it in a short window of time between tours as we've felt pressured to do in the past. We can sit with the songs, let an album take shape organically.
We are trying to keep up our performance chops however, and invite you to enjoy some of our live streaming shows coming up soon. Details are below and we encourage you to check our website or Facebook page for future live streams not yet scheduled. There's no need to have a Facebook account to watch and enjoy, though this does allow you to comment or even request a song if the inspiration strikes you. Your virtual tips are appreciated, but they are also not required to tune in.
We also want to let you know that we're available for private online concerts. If you'd like to host a virtual concert for your friends and family, we did a lunch hour show via Zoom recently for an office team, now all working from home of course. It was a welcome diversion from their work day, and for us, the next best thing to playing a house concert. It's amazing that technology allows us to still connect this way, see each other's faces, chat and share, while staying germ free. Our schedule is pretty wide open for the foreseeable future. Please send us a message if this idea intrigues you and we'll figure it out from there - info@danandlaurel.ca
If you're interested in some online lessons on guitar, ukulele, mandolin, harmonica, banjo, or perhaps having Dan overdub some of the instruments he plays on a recording you're creating, you can learn more and contact Dan at https://www.danfrechette.com/Services/
If you're interested in online violin, viola, or fiddle lessons or coaching, you can learn more and be in touch with Laurel through https://www.laurelthomsen.com/Teaching.html She also has a wide ranging collection of blog posts and Strings magazine articles dating back to 2007 and covering topics from violin technique and better practice habits, to navigating performance anxiety and plateaus in our music learning. Most recently she shared ideas for musicians and creative types weathering the pandemic. Enjoy them here https://www.laurelthomsen.com/Violin_Geek_Blog/Archive.html and here https://stringsmagazine.com/?s=laurel+thomsen
Whenever it's safe to emerge again, we'll resume booking future tours. We're probably looking at 2021 at this point. Feel free to reach out if you'd like to get on our radar, or tentatively schedule a house concert or private event down the road.
This will likely be our last newsletter for a while. We'll be in touch again once we have something to report, preferably some happy news! Feel free to keep up with us on social media in the meantime.
We'd like to leave you with an unreleased live performance of our song "The Beauty Doesn't Know." As the chorus states: "The Beauty doesn't know the rose from the weed, the man from the babe, the storm that shakes the trees. The Beauty doesn't find a road painted black, but a wild horse charging me home. Hold tight. Loose rein. All of your might. Hold tight. All of your dreams. All of your light. It's alright."
While we can't see the big picture yet, let's all hold tight to the hope that good will follow these strange and crazy times.
---
Laurel's Vegan Banana Bread
2 cups unbleached, all-purpose flour (one cup white, one wheat or an alternative flour like oat works well too)
1 1/2 tsp. baking soda
1/2 tsp. salt
1/2 cup sugar (Laurel likes using coconut sugar, or better yet, 5-6 pitted whole dates blended into a paste with the water below!)
1/3 cup avocado oil
3-4 ripe bananas, well mashed
1/4 cup water
1 tsp. vanilla extract
1/4 cup dried raisins or currants
1/4 cup chopped pecans or walnuts

Preheat oven to 350 degrees F, and lightly grease a bread pan or 12 full sized muffin tin.
In a medium-sized bowl, mix flour, baking soda, and salt together. Set aside.
In a large bowl, mash the bananas, then add sugar, oil, water, and vanilla. Mix thoroughly.
Add the flour mixture to the large bowl, along with the raisins and nuts. Stir until just mixed.
Fill each muffin tin halfway with batter. Bake for 20-30 mins, until muffins are golden brown and a toothpick inserted into the center comes out clean.

From: "Offa My Plate - Favorite Recipes of a Musical Duo." by Dan Frechette & Laurel Thomsen. https://danandlaurel.ca/Shop/